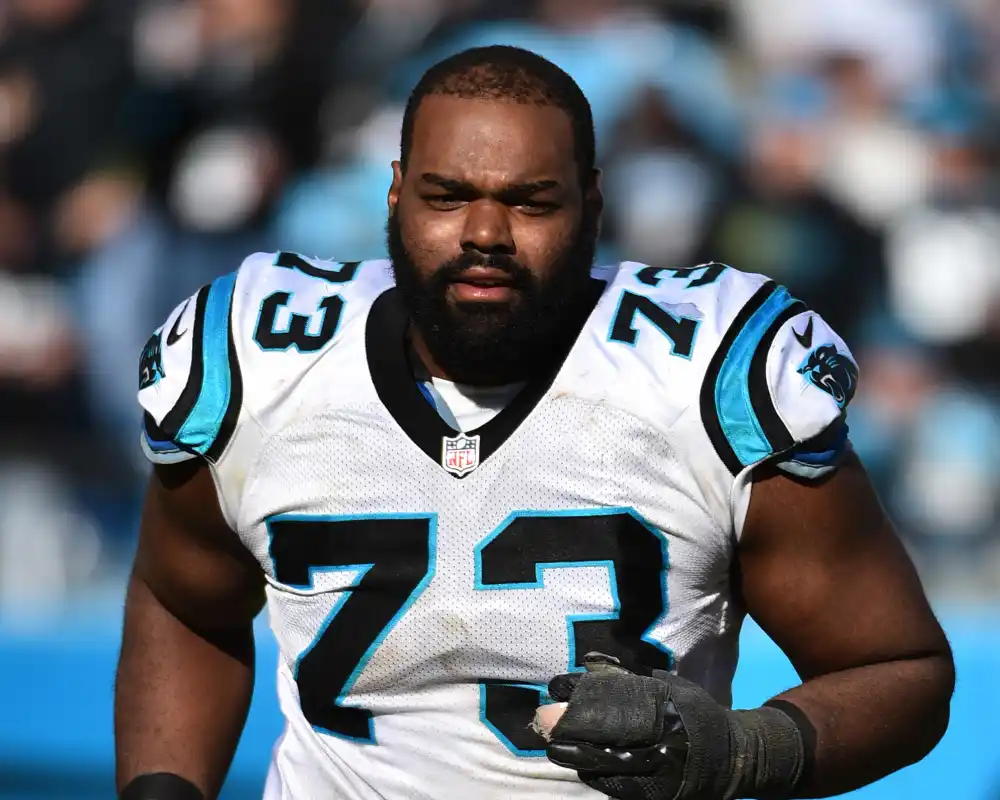 Michael Jerome Oher is a former American Football player and Super Bowl champion, and he played in the National Football League (NFL) for 8 seasons.
Baltimore Ravens drafted Oher in the first round of the 2009 NFL Draft. The Baltimore Ravens acquired the 23rd pick from New England Patriots in exchange for their first and fifth-round draft picks.
In 2009 for 5 years, he played for Baltimore Ravens. In 2014, he signed a four-year contract with Tennessee Titans. In 2015, Oher started playing for Carolina Panthers, and in 2017, he was released by the Panthers after a fallen physical.
Michael Oher Wiki
| | |
| --- | --- |
| Name | Michael Jerome Oher |
| Date of birth | May 28, 1986 |
| Gender | Male |
| Birthplace | Memphis, Tennessee |
| Net Worth | $20 million |
| Height | 6 ft 4 in |
| Martial Status | Married |
| Profession/Carrer | Former Football player |
Know about Michael Oher Wife
Michael Oher Relationship status is Married. Yes, he is a Married man. His wife's name is Tiffany Roy. Michael and Tiffany have been married for a long time and love to keep their married life private.
Tiffany Michelle Roy kept everything private and did not reveal more information here. On August 21, 2020, Michael shared an Instagram image with Tiffany Roy.
Tiffany Roy runs a boutique; she aims to make everyone beautiful. Her online boutique name is The Feminish Collection. She designs for all sizes and has shoes in her online boutique too.
Tiffany remains her life private, but we have some information about Michael Oher Wife, Tiffany Roy. Check here Wiki below.
Tiffany Roy Wiki
| | |
| --- | --- |
| Name | Tiffany Michelle Roy |
| Date of birth | 1982 |
| Gender | Female |
| Birthplace | Lansing, Michigan |
| Net Worth | N/A |
| Height | N/A |
| Martial Status | Married |
| Profession/Carrer | Owner of Online Boutique |
Know More About Michael Oher and Tiffany Roy
Tiffany and Michael run a non-profit organization named 'Beat the Odds Inc.'
Their goal at Beat the Odds Inc. is to provide opportunities for disadvantaged individuals that enrich their lives and help them find their way to college and a better life.
Michael holds the position of the company's president, and Tiffany is the Vice-president, according to propublica.org.
Michael Oher inspired the 2009 biopic "The Blind Side."
This is all the information about Michael Oher wife on this page. We write the most helpful information you get to know about Michael Oher and his wife.
Latest posts by newohofeed
(see all)