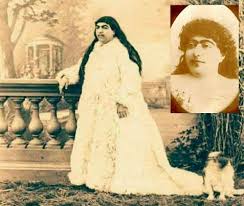 She was considered a symbol of beauty and perfection and was very popular in her time and was in a very high demand.
The definition of beauty has evolved drastically over the time. Every country has its version of what a woman should look like to be considered beautiful.
And though it is a highly debatable argument, it still exists, and people always tend to follow it.
Now, feast your eyes on the woman who was the symbol of beauty in Persia, the modern day Iran, Princess Qajar.
Princess Zahra Khanom Tadj es-Saltaneh or Taj Saltaneh was the princess of Persia, the daughter of Naser al-Din Shah, the King of Persia, the present day Iran.
She was considered a symbol of beauty and perfection and was very popular in her time. She was in a very high demand and had 145 suitors of high nobility.
And the most surprising thing is, 13 of those suitors committed suicide because she refused to marry them.
Taj Saltaneh was married to Amir Hussein Khan Shoja'-al Saltaneh with four children, two daughters and two sons. She later divorced her husband.
She was also considered to be the love interest of the famous Persian poet Aref Qazvini who supposedly wrote a poem about her titled "Ey Taj".
Now, you might wonder why she was considered a Persian symbol of beauty.
If we look at modern women and compare it to Princess Qajar, one would argue that there is nothing beautiful about a woman that has a resemblance to a man.
But the definition and standard of beauty around the world have always been shifting.
Princess Qazar Facts.
Princess Zahra Khanom Tadj es-Saltaneh or the princess of Qajar was the symbol of beauty in Iran not only because people considered her a beautiful woman but also because she was smart and outspoken.
She was a feminist and a groundbreaker for women's rights in Persia. She was the memoirist of the Qajar Dynasty, a writer, a painter, an intellectual, and an activist.
And most importantly she was also the first woman in court to take off the hijab and wear western clothes.
The Iranian princess of Qajar wrote a memoir of the Qajar dynasty which was titled "Crowning Anguish: Memoirs of a Persian Princess from the Harem to Modernity."
The memoir written by the princess of Qajar princess Zahra Khanom depicted an intense conflict of a life straddling in harem and modernism.
Princess Zahra Khanom Tadj es-Saltaneh was the daughter of Naser al-Din Shah Qajar and Turan es-Saltaneh.
Naser al-Din Shah Qajar and His Dynasty.
Naser al-Din Shah Qajar was the King of Persia. He was the third longest reigning monarch of the Iranian history that ruled the country for almost 50 years before he was assassinated.
Though he was a king and had the third longest running monarchy, his authority wasn't as respected as other ruler's.
He had a bit of a dictatorial authority in his style of government, however, the local tribal and religious leaders never seemed to obey his rules and the laws he had implemented.
He was the first modern Persian monarch that had a formal visit to Europe in 1873, 1879, and 1889.
He was amazed by the technologies he found in the United Kingdom and tried implementing the same technique in Persia for which he was largely criticized by the public.
He was also the first Persian monarch to be honored with a Knight of the Order of the Garter, the highest English order of chivalry.
During his reign, despite upsetting his people, he still made some major reforms like building roads, introducing telegraphy and postal services, and increased the size of the military.
The prime minister during Naser al-Din's monarchy was Amir Kabir who brought about many changes and reforms including building the first Iranian school for higher education, the first newspaper service, military factories, modernized buildings, and most importantly foreign relations.
Though he was a successful leader in making positive reforms, he was never successful in gaining popularity among his people.
He received criticism from the general public. Though he was educated and wanted to bring positive change in Persia, the people didn't accept his reforms.
He granted permissions to foreigners to construct railways and irrigation and he even granted a 50-year concession on the sale, purchase, and processing of all tobacco in Iran.
This move proved to be the final string after which Naser al-Din Shah was assassinated while visiting and praying in the shrine of Shah-Abdol-Azim by Mirza Reza Kermani.
Now, getting back to the symbol of beauty in Iran, looking at the princess of Qajar, Zahra Khanom Tadj es-Saltaneh, we can conclude by saying that she was a brave woman who wasn't afraid to stand up for her rights.