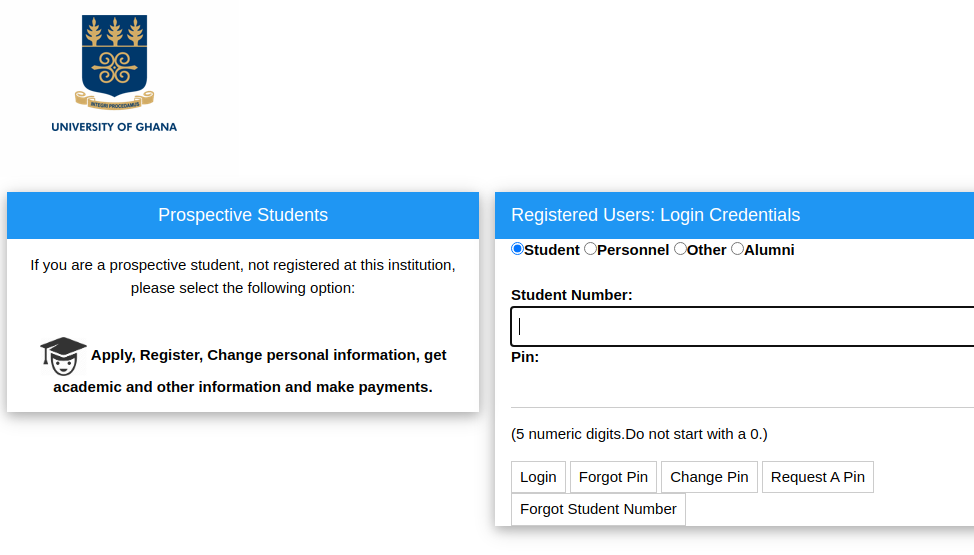 MIS web is an online academic portal for University of Ghana students. It is mandatory for all UG students who will be admitted to the University of Ghana to create an account on the UG MIS Web Portal account.
University of Ghana Web Portal
The University of Ghana academic Web Portal is a Self Help iEnabler where Prospective Students, Personnel, and Alumni can log in using thier credentials. From this iEnabler, Students, Personnel, and Alumni can Apply, Register, Change personal information, and get academic and other information about the university.
MIS Web
UG MIS Web helps you to login under MIS web. With your Student Number and Pin, you can log in and register for your course, change your personal information, get helpful academic information, and make an online payment with the MIS Web portal.
How to MIS Web Login
Open the official website by visiting this URL: https://citycampus.ug.edu.gh/
Click on the MIS page, then select MIS Web under Featured Links.
Click on the relevant radio button to choose your status (Personnel or Student).
Enter your Personnel or Student Index Number and PIN.
Click on the Login button.
How to do Academic UG Legon Online Course Registration
Follow the steps to make UG Legon Online Course Registration.
Login to student iEnabler. (URL: https://ienabler.ug.edu.gh/pls/prodi41/w99pkg.mi_login)
Navigate the Menu, and click on Registration on the left side of the screen.
After submitting the details, Click on Submit Registration.
Under the Qualification Code, click on the Blue letters.
Select Register for this Qualification.
Click on Save and Continue, select the courses according to your preferences, and tick on the course you want to enroll in.
After selecting the courses, click on Save and Continue to view the courses selected by you.
Now Click on Continue to view the Registration cost.
Click on Accept Registration to confirm your Registration.
Now again, click on Continue Button to view your selected courses.
Now click on Print-friendly Format and get the printed proof of your Registration.
Download and keep your Registration proof on your phone.
Now every process is complete, Click on Logout, and you can exit from the portal.
This is the complete information about MIS Web, and if you are a student of the University of Ghana or someone related to the university, then this guide will help you to access the MIS Web portal. MIS web Login is very essential for all the students who newly enrolled in the university because with the Login students are not able to select the course and cannot proceed ahead for the further studies.
Latest posts by Narayan Chandra
(see all)